Corporal Josh Lopez will never forget the day he nearly lost his life while serving in Afghanistan. The young soldier was clearing a house in the middle east when he stepped on an improvised explosive device while under enemy fire. The result, a 4 minute flat line. . . The explosion threw him 20 feet in the air leaving him with a shattered pelvis, broken back and eventual leg amputation. About 2 weeks ago he returned to San Diego after 30 months, 40 surgeries and many hours of rehab.
During his treatment a hospital staffer mentioned the Building Homes for Heroes program to him. He submitted his application and was eventually selected as a match for a foreclosed home in San Marcos, Ca. Chase Bank donated the home and Beach City Builders started in on the homes stunning remodel.
XS Studio by Oceanside Glasstile located in Carlsbad, Ca had developed a contact with Beach City Builders through previous jobs and was excited to jump on board when the remodel company approached them for the project. "We knew immediately that we wanted to be a part of this incredible gesture," states Tamara Christman, XS Studio's Sales and Design Specialist, "our company feels very strongly about reaching out to the community, and to be able to honor a man who has made so much sacrifice for his country was the least we could do."
XS Studio donated most of the porcelain seen in the house including the beautiful 24 x 24 format tiles found in the downstairs and upstairs bathrooms. They also contributed to some of the decorative ceramics found in the upstairs bathroom, and a beautiful blend of glass tile for the waterline in the pool.
Over 200 people showed up on Saturday November 8 to welcome the family to their new home. As Lopez shared his story about the middle-east and his incredible road to recovery, there was not a dry eye in the house. New neighbors, family and friends all celebrated as the soldier and his family received the keys to their new mortgage-free home.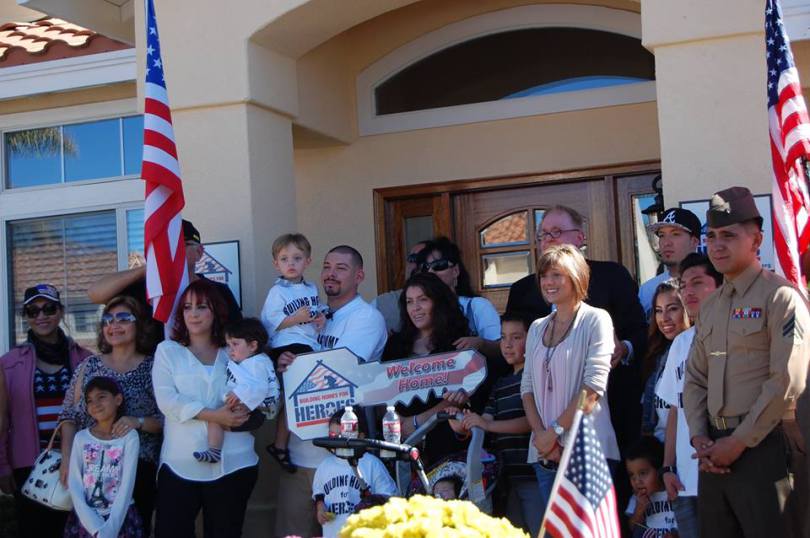 "The worst best thing." Lopez says. Corporal Lopez we couldn't agree more. Thank you for your courage, thank you for your service, and thank you for your amazing sacrifice. We wish you and your family the very best and hope you get to enjoy a beautiful life in San Marcos, Ca.