New Colors Create Infinite Possibilities
Carlsbad, Calif. – Immediate Release – This May Oceanside Glasstile is playing with subtle hues for their Spring Launch 2015. Following up the warm reception from last fall's launch of "newtrals", Oceanside Glasstile introduces three new translucent glass colors to their palette – Infinite, Sandbar, and Silverlight – as well as three new blends – Cosmopolitan, Champagne, and Magnetic.
The muted palette – a sandy beach where ocean skies meet the silver horizon – evokes peace and well being. "We're opening up new design possibilities to create flowing gradients and tonal variations within the 'lighter is lovelier' trend," shares Johnny Marckx, Executive Vice President. Infinitely customizable – relax with some play time on our blend tools. These friendly gems could make an appearance in your next project. Available in three finishes – Iridescent, Non-Iridescent, and Matte – Silverlight, Infinite, and Sandbar are the translucent neutrals you've been looking for.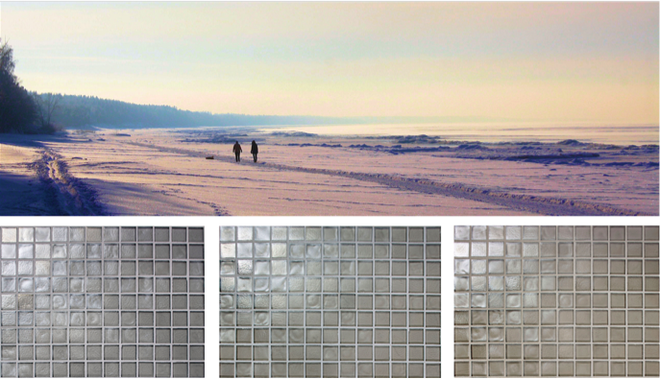 These same colors also inspired three new blends. Cosmopolitan is a modernists dream with its soft grey palette; while Magnetic plays up the blue undertones in the coolest of greys. Champagne's effervescent warmth is like its namesake captured in glass. Cathy Aroz, Design + Merchandising Visionary calls the new blends "subtle, sophisticated, and classic" - a perfect addition to your installation.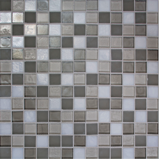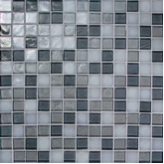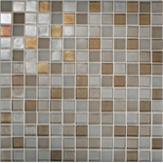 All Color needs Form, so we included a new (well, old) shape to the Muse mosaic collection. This character is a six-sided chameleon – Hexagon in all its classic glory is finding new interpretations in the modern meets retro movement. Now that it's back to claim its rightful place at the pattern party, we wanted to put our color into this simple and joyful motif.
Oceanside Glasstile's Muse collection gains a new pattern with the release of a clean edge 1-5/8" Hexagon. While the Tessera collection's rustic edge 1 ¾" Hexagon has been a staple of the Oceanside Glasstile catalog, the new Muse Hexagon brings a refreshing take on this versatile shape. Johnny Marckx, Executive Vice President shared the inspiration behind the Muse Hexagon "it brings balanced proportions with a scale that works in a variety of applications". Available in any color or blend, Oceanside Glasstile's Muse Hexagon is the perfect touch of refinement for any residential or commercial project.
Recycling is in the DNA of Oceanside Glasstile. Each year they melt more than 2 million pounds of post-consumer bottle glass. The result – a gem-like substance crafted into stunning glass tile. They continuously strive for improvements in energy efficiency, and maintain a closed loop manufacturing process where they re-melt all of their own glass trimmings. Manufacturing innovative products with a sustainable process is an important business value, but . . . that's just where the fun begins. Encouraged by the leadership of the company, Oceanside Glasstile employees support all kinds of causes both near and far. Embracing social responsibility, they find joy in restoring orphanages, building schools, planting new trees and collaborating with the generation of tomorrow. Both home and commercial designs will get a dose of good vibes when they incorporate this environmentally-aware, socially-responsible product into their work-in-progress.
For more information, please see www.glasstile.com. PRservices@glasstile.com