Watching a small, delicate, personal cloud form in front of your lips from a cold weather exhale is enchanting, but long winter nights can tempt one to dream of warmer days. Merge your favorite ski bunny tendencies with hot memories by enveloping yourself in one of these seven steamy spas at luxury resorts, onsens and chalets around the world.
Transport yourself mentally, or physically, to one of these top global geothermal getaways while daydreaming of how to transform your own sanctuary into a relaxing water sanctuary.
1. Septième Ciel, Verbier, Switzerland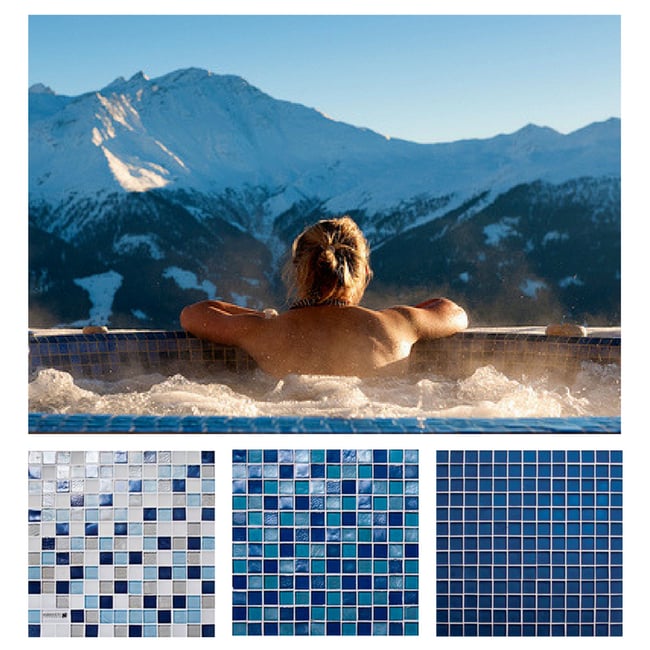 Translated from French to "Seventh Heaven", Septieme Ciel presents guests with an ethereal escape from the ordinary for an intimate group. This exclusive chalet only sleeps 12 and offers guests a hot tub with one of the world's most breathtaking views. Imagine hitting the slopes all day then arriving home to this view from this hot tub. Reservations available here through Luxury Ski Chalets.
Pool tile inspiration: This is a wood-heavy retreat with a classic round hot tub adorned with a white and blue water line. Recreate this look by using a unique pattern with a classic blue like Sapphire or use a blend like Crystals or Indigo to evoke the beauty of a snowy skyline. Also, ask your landscape architect or pool builder to slope the edges of the hot tub and wrap the edge with tile instead of truncating it with coping; this will create a relaxing recline and smooth edge around the spa. Explore more tile colors and blends for water applications here.
Glass tile colors shown in Muse 7/8" by 7/8" from left to right: Crystals blend, Indigo blend and Sapphire non-iridescent.
Photo source On The Snow.
2. Laugarvatn Fontana Geothermal Baths, Laugarvatn, Iceland
Branded as the "Icelandic fountain of wellness," this retreat is one of several geothermal hot springs in the area. Enjoy one bath or take an organized tour to experience multiple oases. Bonus, this luxurious icy retreat also offers freshly baked goods from their own bakery and local kitchen. Reservations available here.
Pool tile inspiration: Recreate the clean lines and authentic rustic feel of this rejuvenating retreat with larger format patterns like those from our Elevations and Casa California collections combined with a smaller mosaic water line in 7/8" by 7/8" to create a sense of refined detail. Go with a subdued, water complimenting color choice for the entire pool while using a fun color like Incense on waterfalls and water features to maximize nighttime light reflections to create a magical hue in your own warm water retreat.
Glass tile colors shown in Muse 7/8" by 7/8" from left to right: Nalu (new color!) matte, Pacific non-iridescent or go bold with Incense iridescent.
Photo source Laugarvatn Fontana image gallery.
3. The Bagni di Bormio Spa Resort, Valdidentro, Sondrio, Italy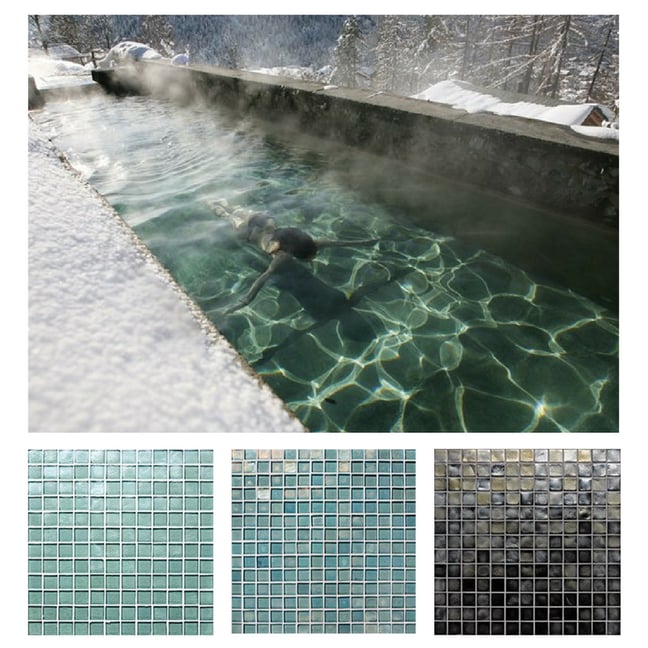 Situated close to the Alps, visitors relax in the heat of these Italian baths after enjoying the ski slopes or hiking through the nearby Stelvio National park. Reservations available here; use google translate if you need help with your Italian.
Pool tile inspiration: This Italian escape features a vanishing edge pool and multiple spas. Adorn your hot tub or pool with blue or teal hue mosaics to highlight the refreshing effect of clear water. Adorn water features, water walls next to concrete coping or waterscape walls with Pewter to create the beautiful light and dark juxtaposition look of a luxurious water retreat.
Glass tile colors shown in Muse 7/8" by 7/8" from left to right: Tide iridescent, Oasis from our Blue line and Pewter.
Photo source QC Terme Bagni di Bormio website.
Follow them on Instagram here.
4. Glenwood Hot Springs, Vail, Colorado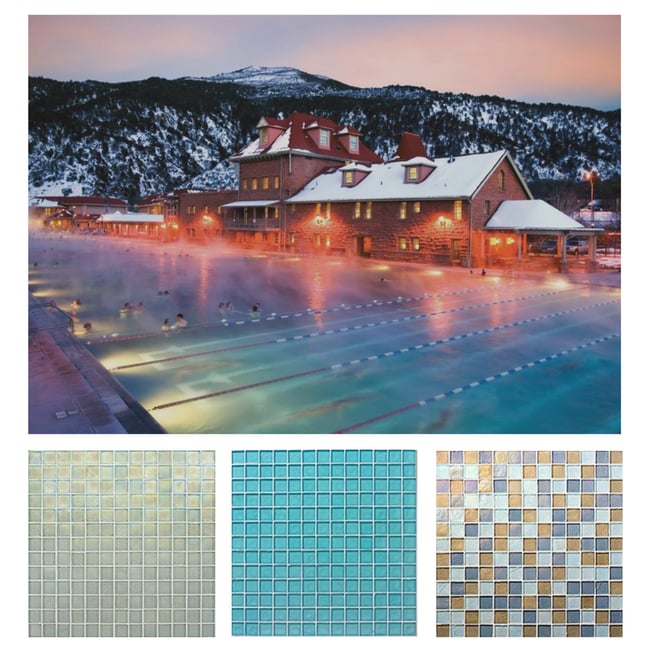 Located between Aspen and Vail, Glenwood Hot Springs has served visitors since 1988. Boasting the world's largest hot springs pool, this mountain retreat's healing waters beckon travels from across the globe. Reservations available here.
Pool tile inspiration: The classic American beauty of this resort and prominent brick walls pair well with simple hues or soft blends. The resort creatively has directional arrows on the floor of the pool to indicate the direction of lap swims within each lane; create this look with Clear, Satin or White arrows among Aqua tiles along the pool floor.
Glass tile colors shown in Muse 7/8" by 7/8" from left to right: Clear iridescent, Aqua non-iridescent and Escape blend.
Photo source Glenwood Hot Springs Resort website.
5. Tekapo Springs Hot Pools, Lake Tekapo, New Zealand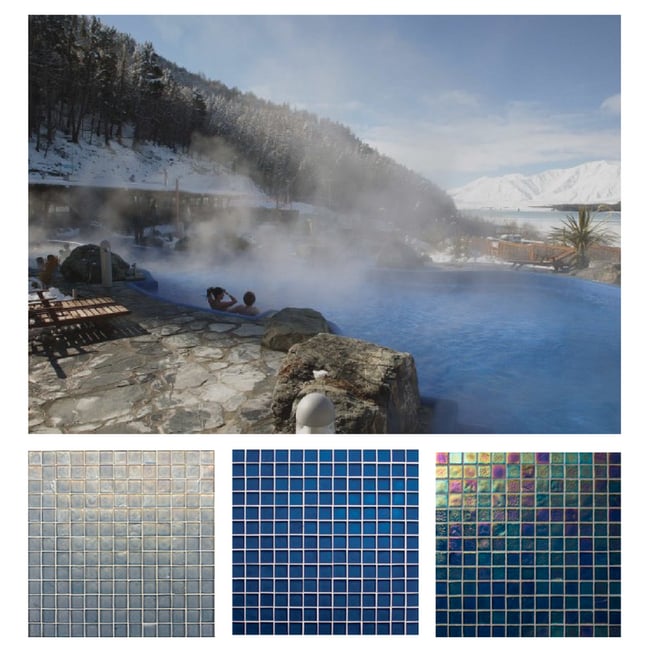 Not only relaxing but fun, Tekapo Springs offers a skating rink, tube park, waterslide and star gazing in addition to their relaxing day spa services. Pair your next New Zealand escape with this water refuge for a luxurious getaway. Reservations available here.
Pool tile inspiration: Recreate the relaxed, fun feeling of this southern hemisphere retreat by pairing a light or classic color with an adventurous glittering hue. Working with a shallow pool or spa? Tiling an entire pool or spa with a rich color like Sapphire creates the perception of depth.
Glass tile colors shown in Muse 7/8" by 7/8" from left to right: Fleet Blue iridescent, Sapphire non-iridescent and Peacock iridescent.
Photo source Tekapo Springs Hot Pools.
6. Tsurunoyu Hot Springs, Tsurunoyu, Japan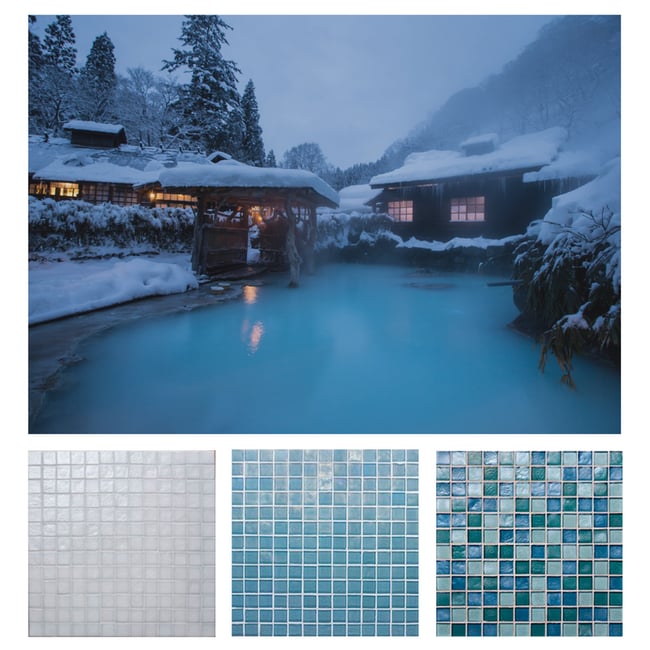 This Japanese onsen (or hot spring as they are known in the U.S.) is a hidden gem down a dirt road in Nyutou. Visits to the four pools located here date back to 1638. Rooms are available at this location along with local sansei (mountain vegetable) cuisine. Reservations available here.
Pool tile inspiration: Smokey whites, greys and blues capitalize on the calming, magical effect of such a revered historical space. Make water glitter with the addition of a dynamic blend that uses iridescent and non-iridescent mosaics.
Glass tile colors shown in Muse 7/8" by 7/8" from left to right: Satin, Pacific non-iridescent, Cypress Bay blend.
Photo source Tsurunoyu website.
7. Aquadome Spa, Langenfeld, Austria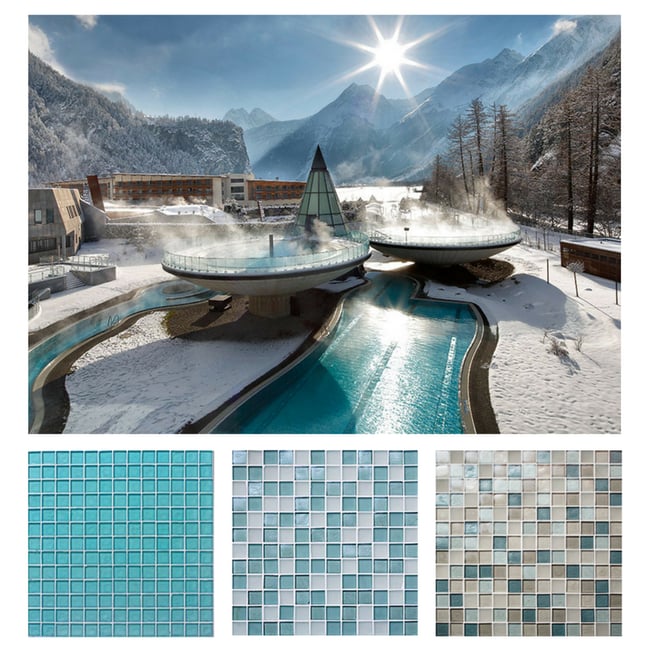 Complete with underwater music and lights, relaxing in one of these luxurious modern pools is an activity to add to your bucket list. Classified as a wellness spa, the Aquadome sits nestled in a valley of the Alps. You can attend the spa for a single day, or use it during your stay at the hotel. Reservations available here.
Pool tile inspiration: Leverage white hues with a hint of calming earth tones of beige or light brown on the waterline to highlight the effects of naturally occurring snowy slope colors. Use aqua or a dynamic blend throughout the pool to highlight the calming color of the healing water. Book an appointment at one of our authorized distributors to choose tile suitable for your own thermal escape.
Glass tile colors shown in Muse 7/8" by 7/8" from left to right: Aqua non-iridescent, Breathe blend, and Puna blend (a new blend using colors released in Winter 2016, read about the meaning behind the name here).
Aquadome photo source here. Check out the serene, snowy slopes and relaxing luxury spa venue via Aquadome's live webcams here.
Follow this location on Instagram here.
Simply stunning. Responsibly made. Bringing joy to your journey. Founded in 1992 and headquartered in Carlsbad, California, Oceanside Glasstile is the world's leader in luxury glass manufacturing used for glass tile and art glass. Learn more about our products, sustainable practices and community involvement at glasstile.com.