Cheers! It's the first word our glass tiles hear before beginning their journey to up-cycled glory. Turn the bottles from last summer's pool party into this summer's new pool tile. Jeromey Naugle, one of the founding members of Tributary Revelation a luxury pool building educational group and the owner of Premier Paradise a luxury pool building company, let his imagination run wild in three distinct backyard designs.
Highlighting his ability to design backyards and inground swimming pools across different aesthetics while still paying homage to the Arizona Landscape, Naugle transforms outdoor spaces into personal oases.
Tributary Revelation is a network of world-class pool contractors, designers, and builders exchanging ideas and experience to revolutionize the pool building industry. Founded on the free exchange of knowledge, material and tile selection, and stunning design, Tributary Revelation continues to elevate the game of outdoor living, pool, and spa design.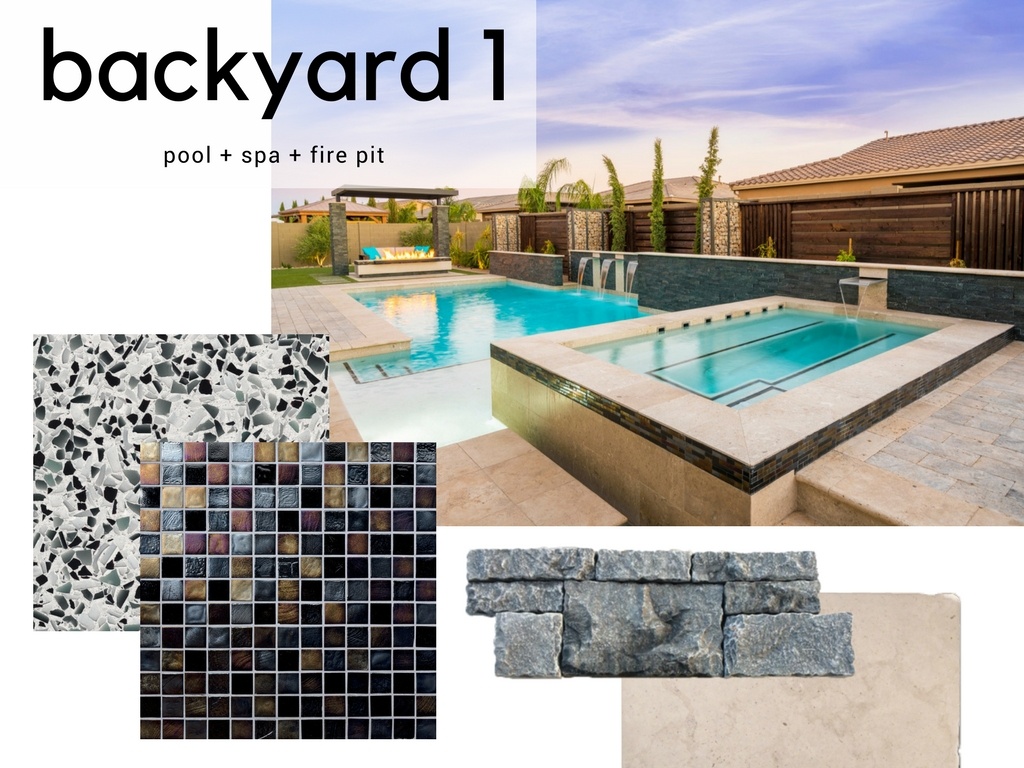 Crystal clear water spills from bronze pool scuppers accented with Oceanside Glass & Tile's Vibrato mosaic in a mix of Bronze, Silver, and Black. Playing off the desert landscape, Premier Paradise combines metallic finishes, dune hued stones, and thirst quenching aqua blue depths to create this modern small pool retreat.
Mixing different textures, like iridescent glass and natural stone, makes the most of this small backyard. The light travertine creates a sense of open space doubling as pool decking while the metallic glass tile and dark natural stone add contrast.
Achieve a similar look by pairing Classic Black by Vetrazzo with travertine and large, irregularly cut black natural stone. Different elevations of the pool deck, spa, waterline tile, and feature wall complete a Modern design aesthetic while additions of metallic glass, like Oceanside Glass & Tile's Moroccan Desert blend, and bronze fountains complete the design.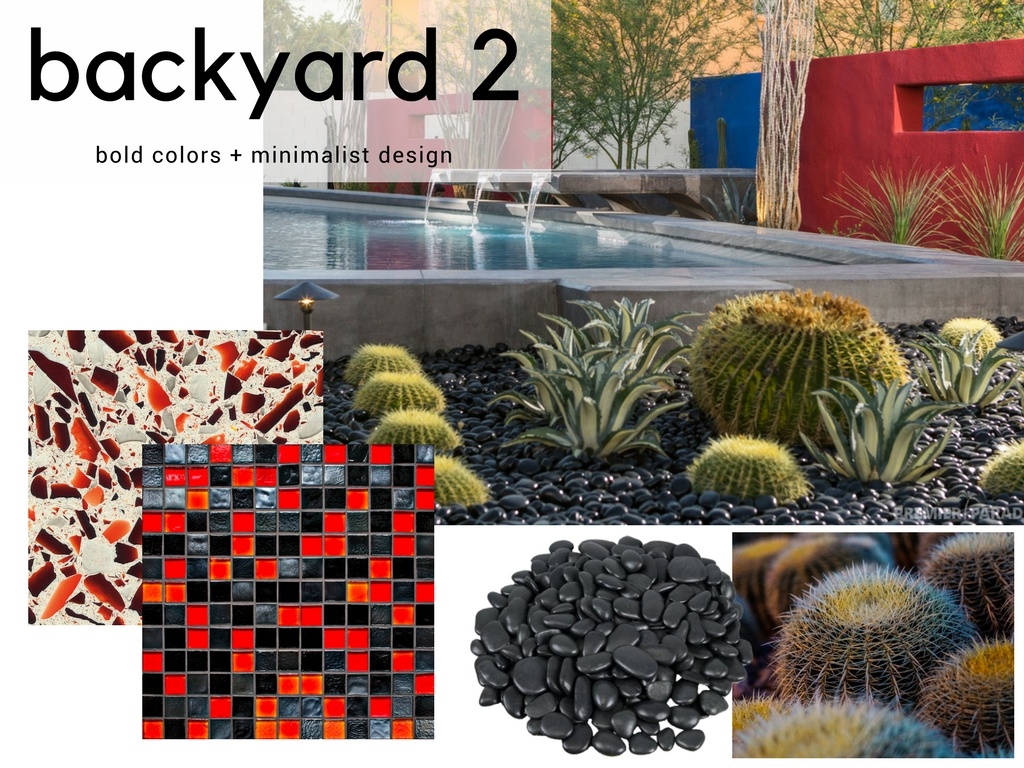 Two distinct water noises are heard -- the bubbling stream and the subtle splash of a fall -- in this minimalist backyard oasis. The rectangular pool, with its shallow profile and matte onyx finish, allows this backyard to play with bold pops of color. Cobalt Blue and Crimson Red walls add a sense of playfulness reminiscent of Pop Art artists Andy Warhol, Roy Lichtenstein, and Keith Haring.
A strategic color palette and a balance with natural elements keep this design together. Premier Paradise again pays homage to the Arizona desert through the landscape design. Abundant with succulents, the garden design feels lush and alive instead of like a museum piece. This is a space people can enjoy, relax, and reflect in (and maybe do a cannonball).
Achieve a similar look with a low profile, right angle pool. To maintain the Contemporary design aesthetic, you'll want to stay away from fluid shapes, like more traditional kidney or oval shaped pools. Play with elevation in your landscape design with plants that, as they mature, will grow to different heights. Pebbles instead of sand, mulch, or grass preserves the minimalist design and helps conserve water!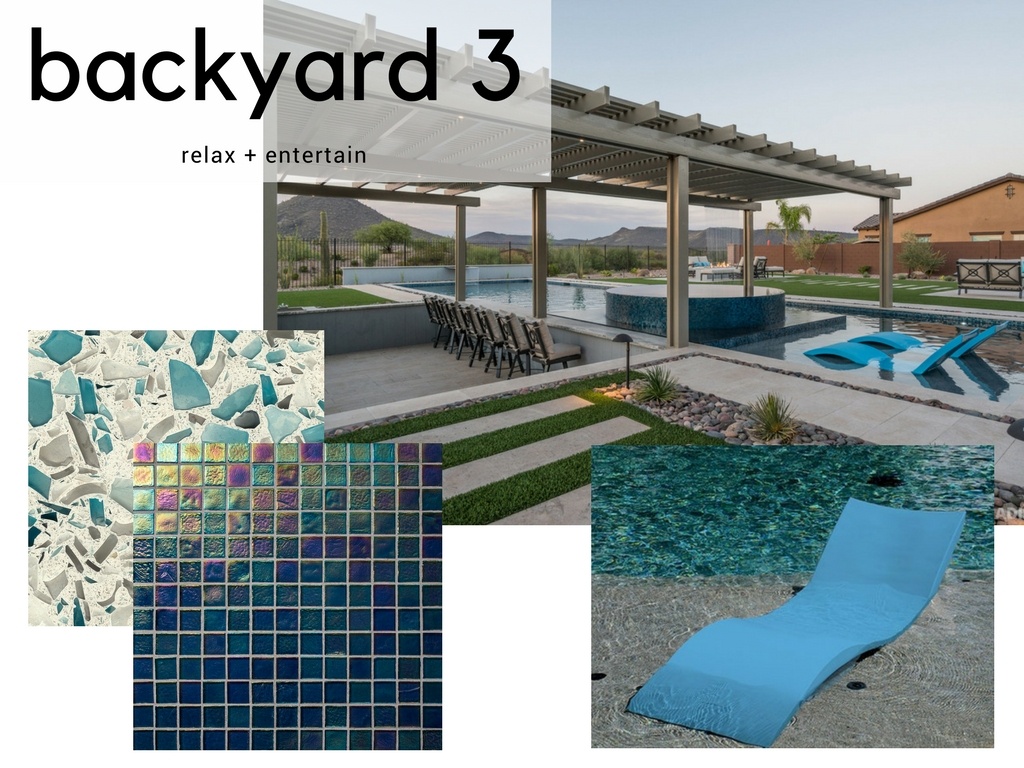 In this final backyard, Premier Paradise updates traditional inground swimming pool design with pool recliners on the tanning ledge and an extended patio cover. Play with elevation may just be part of Naugle's signature style and it doesn't feel out of place in a more mainstream backyard and pool design. The entertainment space is just recessed enough to allow guests to talk to each other from the pool, spa, Baja shelf, and patio with ease. All from an uninterrupted view of the Arizona landscape.
As easy on the eyes as the cool water feels, blue iridescent glass tiles are the traditional accent for pool waterlines and spas. Oceanside Glass & Tile's Peacock Iridescent glass mimics water's effortless glitter and will dance with the change of the sun, shadow, and stars. Use Vetrazzo's Floating Blue slab on decking pulling double duty as countertop space.
Request a sample of Backyard 3
Backyard photos courtesy of Premier Paradise. You can contact Premier Paradise at www.premierparadise.net.
Connect with Tributary Revelation at www.tributaryrevelation.com.