Oceanside Glass & Tile has been in the tile game for over 25 years now, and we've seen it all. Kitchen backsplashes with tile designs that will blow your mind! Bathroom floors designed with glass tile that will make your toes tingle. Homes with feature wall tile that will make any guest step back and go "ooooooooooh!" As a result we've curated some of our top home décor designs that feature beautiful bathroom tile, timeless kitchen tile, artistic wall tile, and outdoor tile to inspire your next home makeover.
Transform your Kitchen Backsplash or Bathroom Shower Wall with these Subway Tile Designs.
Tired of the traditional wainscot options for your bathroom walls. Consider a beautiful beveled white subway tile. And while you're at it, give your bathroom floor a reason to smile with this beautiful hexagon floor tile.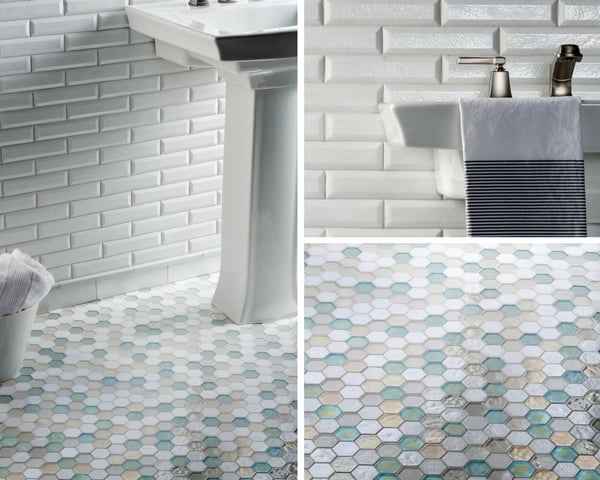 Bathroom Floor Tile: Muse Hexagon in the Atmosphere Blend (In Stock - Find a tile store today!)
Bathroom Wall Tile: Casa California Outro in Satin Iridescent (In Stock - Find a tile store today!)

Add a little charm to your vanity wall with this modern subway tile available in white, true clear and a modern iridescent grey glass tile.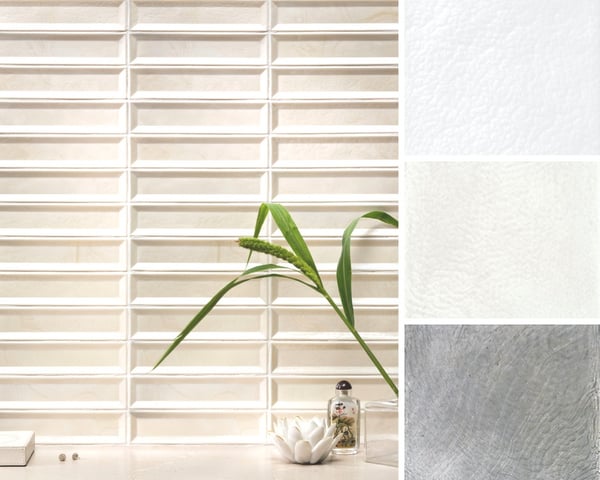 Vanity Wall Tile: Casa California Intro in Silk Non Iridescent
(Available Stock Colors: Satin Iridescent - Top Right, Oxygen Irid - Middle Right, Platinum Irid - Bottom Right)


This Coastal Chic kitchen shows off our brilliant Atmosphere blend in our a beautiful beveled subway tile using two distinct pieces - our Casa California 2" x 8" Intro and our Casa California 2" x 8" Outro.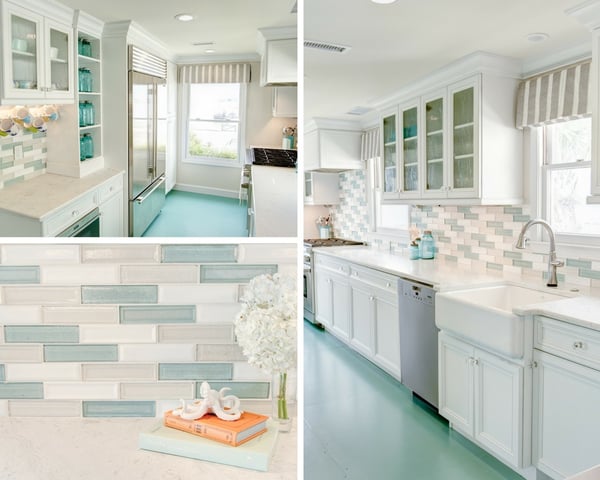 Kitchen Backsplash: Casa California Intro and Outro in the colors Clear, Oxygen and White.
(Available Colors in Stock: Satin Iridescent, Oxygen Iridescent, Platinum Iridescent - Find a tile store today!)
Put the "Rest" in your Room with these Bathroom Design Ideas




This beautiful bathroom culminated through the hard work of Classico Tile in Ohio. The homeowner was looking to create a space where they could relax in the lap of luxury, as a result they specified this glass tile to adorn their bathroom walls. The intricate cuts of wall tile are highlighted with beautiful pieces of antique mirror that dance in the light and inspire pure joy in the peaceful onlooker.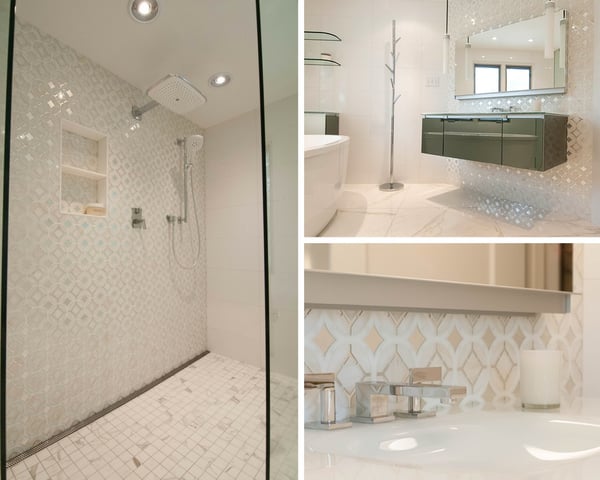 Bathroom Wall Tile: Devotion Cathedral Pattern in the Bewitching Blend (In Stock - Buy Tile Today)


Thinking of wall paper? Consider a beautiful installation of intricate cut art glass tile. This tile gives you a stunning backdrop for your kitchen or bathroom and can be applied in wet areas like shower walls and steam rooms!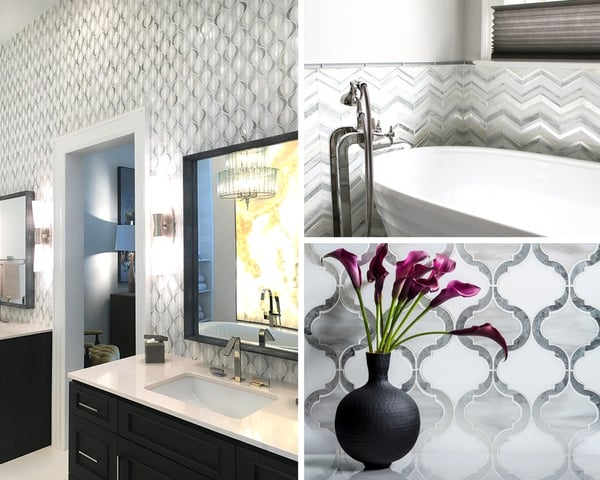 Bathroom Wall: Devotion Lotus Pattern in the Serenity Blend.
Bathroom Wainscot: Devotion Echo Pattern in the Million Dollar Blend.
Vanity Wall Tile: Devotion Jali Pattern in The Million Dollar Blend.
(In Stock! Find a Tile Store)

You know that saying - "Not all that glitters is gold." Well in this case it is! This beautiful bathroom backsplash tile uses a large format, gold antique mirror subway tile that brings pure luxury to your space.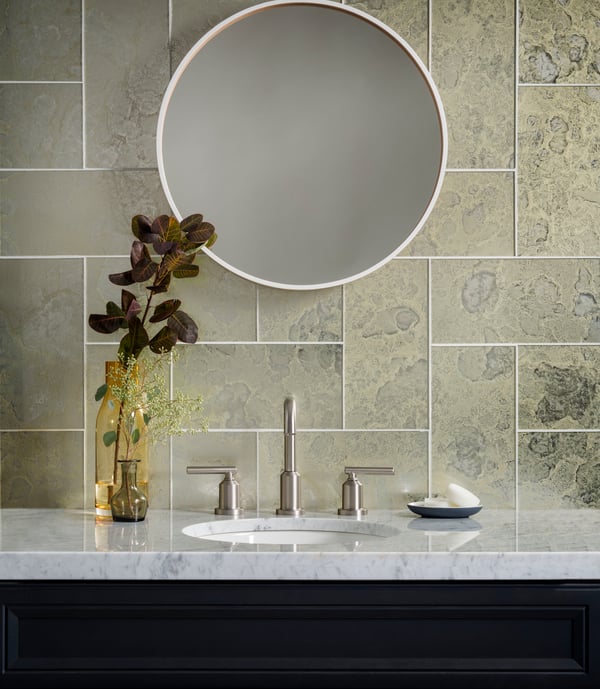 Bathroom Wall Tile: 6" x 12" Antique Mirror in the color Gilt, set in a herringbone pattern.
Backyard Design that will inspire your next Staycation
Who needs a trip away when your backyard is decked to the nine in glittering glass tile? We love the spa overflow feature that lends itself as a beautiful focal point for this leisurely pool. Glass mosaics are a great option for your waterline and come in a myriad of shapes, sizes and colors.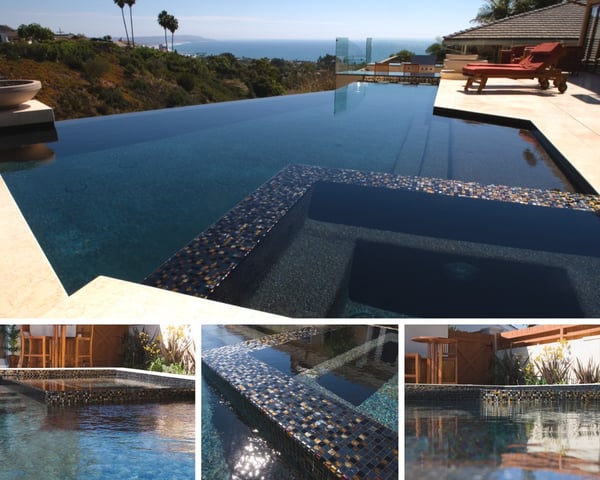 Pool Tile: Tessera 1" x 1" Mosaic in the Moroccan Desert blend.

We love this modern backyard design that has hints of industrial design that create a unique backyard pool design perfect for some fun in the sun and a margarita!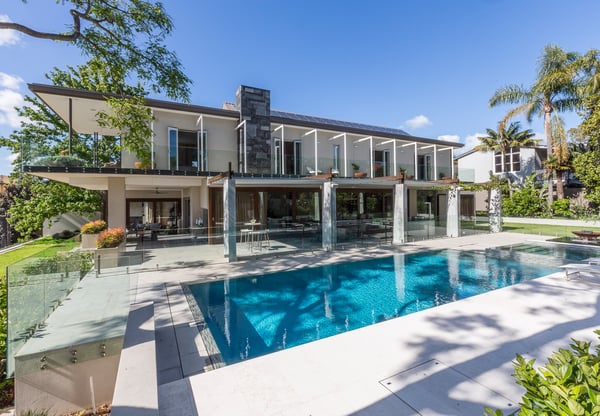 Pool Waterline: Muse Prose in Custom Blend using Pacific and Platinum
(Consider In Stock Option Muse Vibrato in Magnetic)

Worried about battling calcium deposits on your pool waterline? Consider a white mosaic glass tile! Not only is Oceanside Glass an impervious material that is well-suited for a pool, that white tile creates a perfect mask for the pesky calcium build-up. We've also got a great, calcium build-up cleaning product to help keep you tile clean and looking brand new!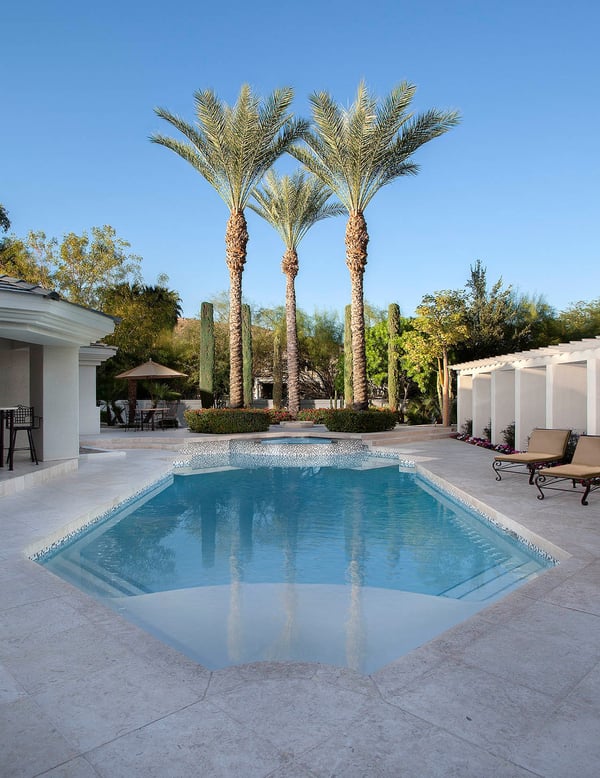 Pool Waterline + Spa Overflow: Muse 7/8" x 7/8" mosaic in custom gradient design - colors White and Platinum. (Consider these in-stock tiles: Muse 7/8" x 7/8" and Tessera 1" x 1" in our Veil Blend)

Enjoying the backyard pool exploration? We've got some more landscape ideas here!

We hope you enjoyed this photo tour of bathroom, kitchen, flooring and pool tile design ideas! If you're looking to buy tile at a store near you we can help! Here is a link to our tile store locator form. Once the form is submitted you will receive personal assistance finding the perfect tile showroom for your next home remodel.